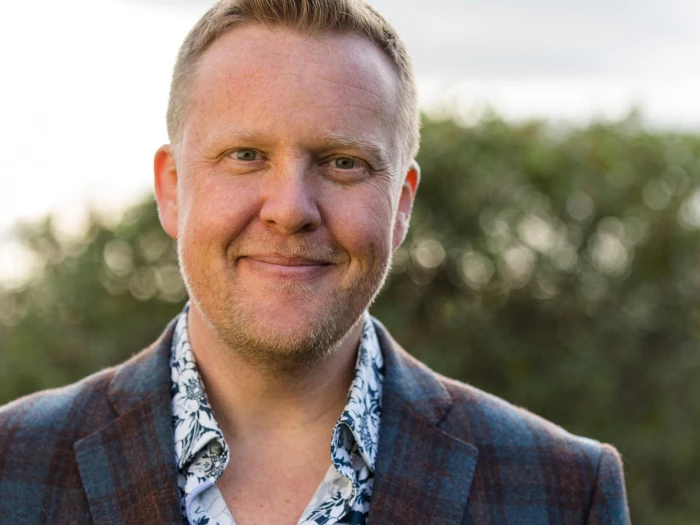 Book Olly Smith for your event
Olly Smith is a wine expert and TV personality from Britain. After attending Charthouse School on a music scholarship, Olly Smith became a chorister at Kings College, Cambridge. He then went on to study a Master degree in English Literature at Edinburgh University. Olly Smith is both columnist and wine editor of The Mail on Sunday's Event Magazine's. He has also written columns for Sainsbury's, Waitrose, Men's Health and Wine and Spirit. Throughout his career, Olly Smith has written five books, including Eat and Drink: Good Food That's Great to Drink With (2010) and Behind Enemy Wines (2013).
Olly Smith regularly appears as a wine expert on shows such as BBC's Saturday Kitchen and ITV's This Morning. In 2014, he presented Last Taste of Summer, a four-part miniseries which aired on This Morning. Olly Smith also hosted Iron Chef UK in 2010 and presented The Secret Supper Club on Channel 4 in 2011. He was named amongst the top 75 most influential people in the UK wine trade by Off License News in 2011 and was awarded the UK Vineyards Association Communicator of the Year Award in 2012.
FAQ on booking Olly Smith
Can I hire Olly Smith for a private event?
Olly Smith is available to hire for both personal and corporate occasions. Whether you want to enjoy a virtual cocktail class with friends, have Olly Smith meet and greet guests, or simply require a virtual teambuilding day hosted by Olly Smith; get in touch today.
What services could Olly Smith provide?
Virtual cocktail class
Olly Smith to meet and greet guests
ZOOM wine tasting with Olly Smith
Chat over ZOOM
An informal Q&A session
Can I hire Olly Smith for my company event?
Certainly, Olly Smith is available for hire for both personal and corporate events. Nowadays, companies are going to great lengths to make their corporate entertainment stand out. Experience truly exceptional corporate entertainment and book Olly Smith through Celebrity-Experiences.com. Whether you want to treat your employees to a virtual wine tasting event, require Olly Smith to meet and greet clients, or simply want Olly Smith to provide a motivational keynote speech before a company pitch; get in touch today.
Book Olly Smith for your corporate engagement
If you hire Olly Smith for your event, there are several services he could provide:
Present employee awards
Keynote speech services
Virtual Wine Tasting
Meet and greet clients and staff
Virtual Teambuilding Day
How much will it cost to hire Olly Smith?
All the luxury experiences we provide are completely bespoke and fully customised to the client's demands. There are numerous variables, add-ons and optional extras that determine the final price of an event. For an accurate quote, please contact the Celebrity-Experiences.com customer team today. They will be happy to answer any questions or queries you may have. The world of luxury experiences is only a click away.
Please contact our team today to discuss your requirements.
Read more about booking a celebrity appearance through Celebrity-Experiences.com